FUEL UP + GO: Joli's Favorite Food Bars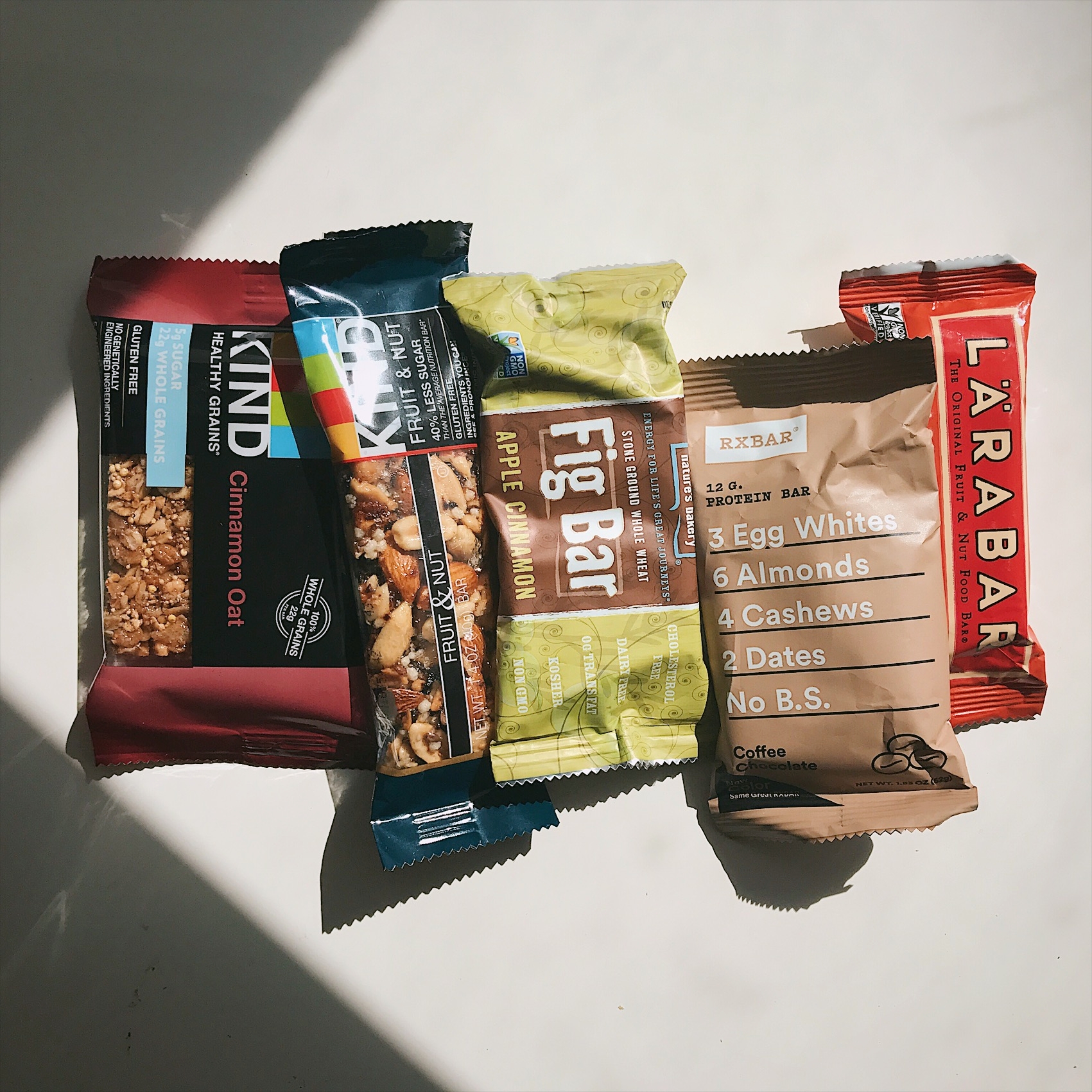 A.M. POWER:
KIND HEALTHY GRAINS OAT BAR

ENERGY ON THE TRAIL:
KIND FRUIT + NUT BAR

AFTERNOON PICK-ME-UP:
NATURE'S BAKERY FIG BAR

POST-WORK OUT FUEL:
RXBAR PROTEIN BAR
SWEET SNACK:
LARABAR FRUIT + NUT BAR
I try to eat whole foods whenever possible, but ...
There are times when I am so grateful for things like food bars! I use food bars mainly as a last resort or as an occasional snack. Here is how I use food bars:
If I am teaching back-to-back classes and need some nutritional support, I'll have an RXbar. I don't eat them often, but I will have one as a way to supplement my protein, especially when I know I am going to be super active. I always keep oat or grain bars on hand for when I am running out the door early in the early morning. These are great for when its too early for breakfast but I know I need something in my stomach. Sometimes I'll just grab a handful of granola bunches or some fruit and mixed nuts or a cashewgurt (Forager is my fav.)
I keep a couple Larabars and Fig Bars in my glovebox just in case I need fuel to get me through the day. They are amazing for when I am stuck in traffic and hangry. When I feel super spacey with a lot of vata energy, I definitely dig into my glove box. The sweet, textured, and dense bars are grounding and do a lot to pacify me when I am feeling moody because of low blood sugar.
Bars are super easy to pack for camping and hikes. I like to snack on fruit & nut bars when I am out on longer trails. I'll usually pack a couple of Kind bars and some fresh fruit. A friend recently introduced me to GoMacro bars and actually, I've pretty much switched over completely.
When I travel for extended periods of time I'll usually bring one of each: a breakfast bar, a protein bar, a nut or fruit-based bar and and an oat or grain-based one. When I'm flying, I'll have plain instant oatmeal or one of these bars and a piece of fruit with some tea for breakfast instead of what is served on the plane.
If you are always on the go, working late, or forgetting to eat for long stretches of time, consider keeping food bars on hand! I like to think of them as part of my self-care first aid kit.
What are some of your favorite food bars? Share them in the comments below.