Morning Ritual: Everyday Detox Lemon-Ginger Water
It's been several years now that I've been starting my mornings with warm lemon water. However, now I experiment with adding in other beneficial ingredients to change things up, depending on the season. As the weather starts to get colder, I love prepping lemon ginger water to soothe my throat and help give my immune system a much needed boost.
(continue reading to learn about the benefits and how to make it!)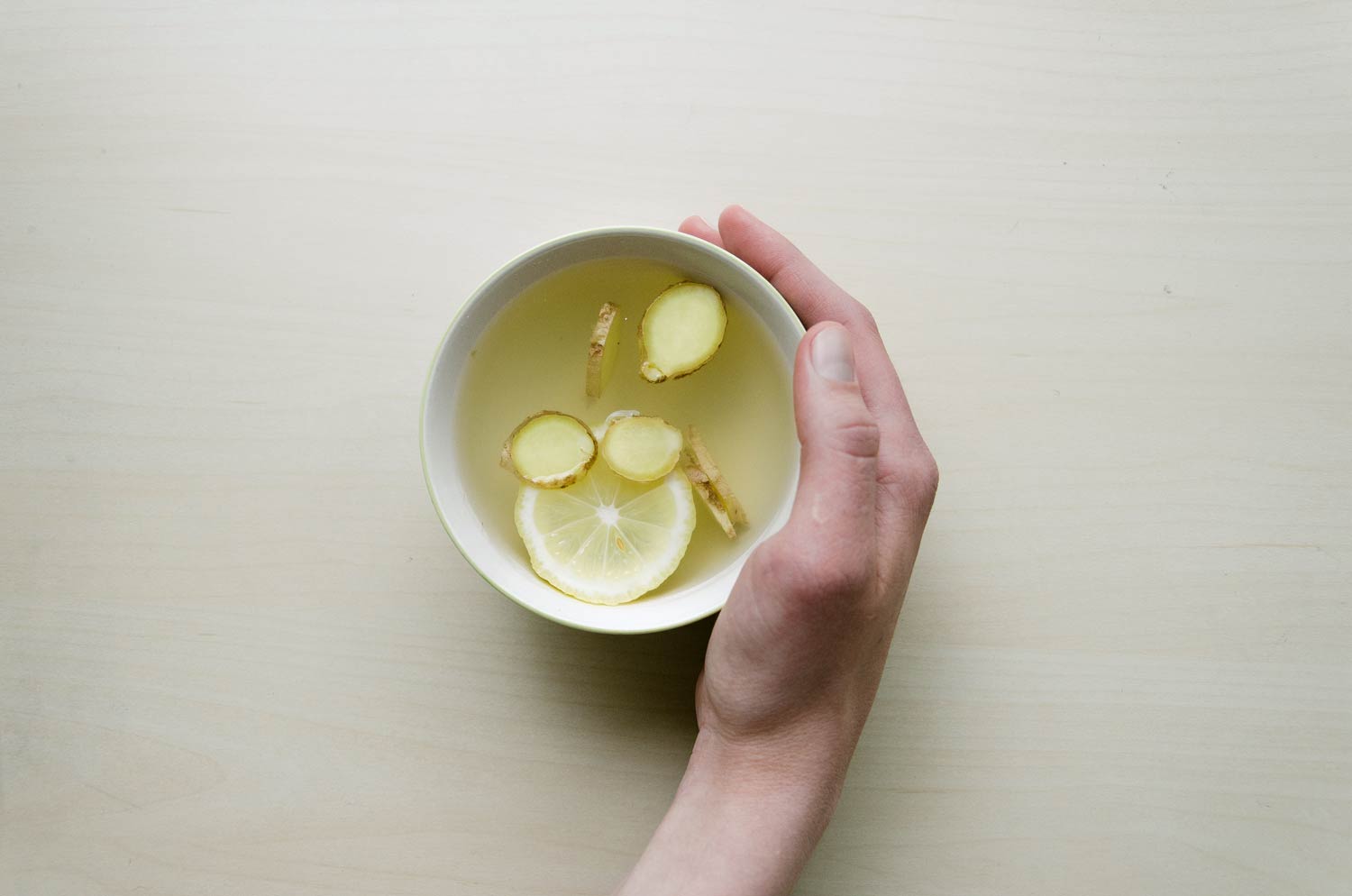 have this lemon-ginger water #everyday and
reap all the amazing health benefits.
BENEFITS OF WARM LEMON-GINGER WATER:
LEMON - Alkalizing for the body, a great source of antioxidant vitamin C. Aids constipation and indigestion. Antibacterial, detoxifying and purifying.
GINGER - Anti-inflammatory power house. Ginger is also great for nausea, morning sickness and indigestion. Ginger can also help to alleviate cramps and exercise induced muscle soreness.
HONEY - This natural sweetener is antioxidant rich. Perfect for winter season, it is soothing for the throat, reduces mucus and suppresses cough.
HOW TO MAKE IT:
Get some water just to boiling.
While water is boiling, cut a fresh lemon in half. Squeeze 1/2 of the lemon's juice into a mug.
Finely grate 1/2 tsp. of ginger using a press, zester or grater and place into the boiling water.
You can optionally place the grated ginger in a tea infuser to avoid having to strain out the ginger.
Steep for approx. 10 minutes, allowing the boiling water to cool.
When you're ready to drink, place a strainer over the mug and pour the ginger-water into the mug.
If you'd like to sweeten it a bit, add a tsp. of raw honey to taste and stir together.
if you like spicy, add a pinch of cayenne and stir.
Make a Chilled Version:
Use lemon, ginger, apple cider vinegar*, maple syrup, and filtered water combined together in a jug or mason jar.
*Apple cider vinegar is a popular holistic medicine that is known to relieve many ailments. So, if you want an addition of extra health benefits, add a shot (1-2 teaspoons) into your water. This chilled version is perfect for all doshas with the exception of vata.
Notice how we replaced raw honey with maple syrup for the chilled version? It's because we find that maple dissolves better in chilled beverages. Feel free to innovate- use more or less lemon and ginger. Adjust to your taste.
#DOWHATMATTERS
MORNING RITUALS:
EXPLORE THE BENEFITS OF OTHER AYURVEDA BASED RECIPES: