EAT: Best Health-Conscious Cafes in Paris
Between all the wine and cheese, try one of these healthy conscious cafés before you say au revoir.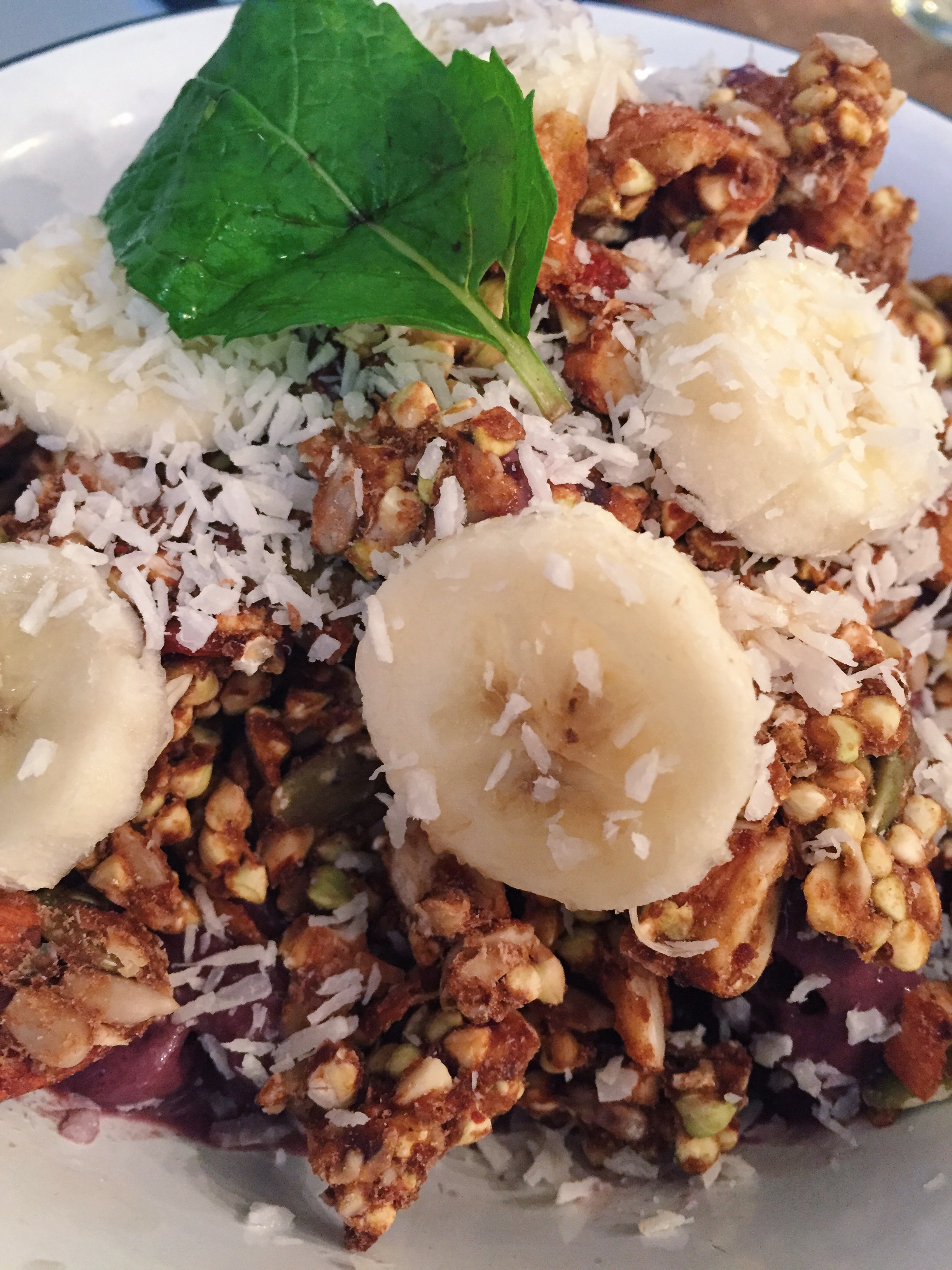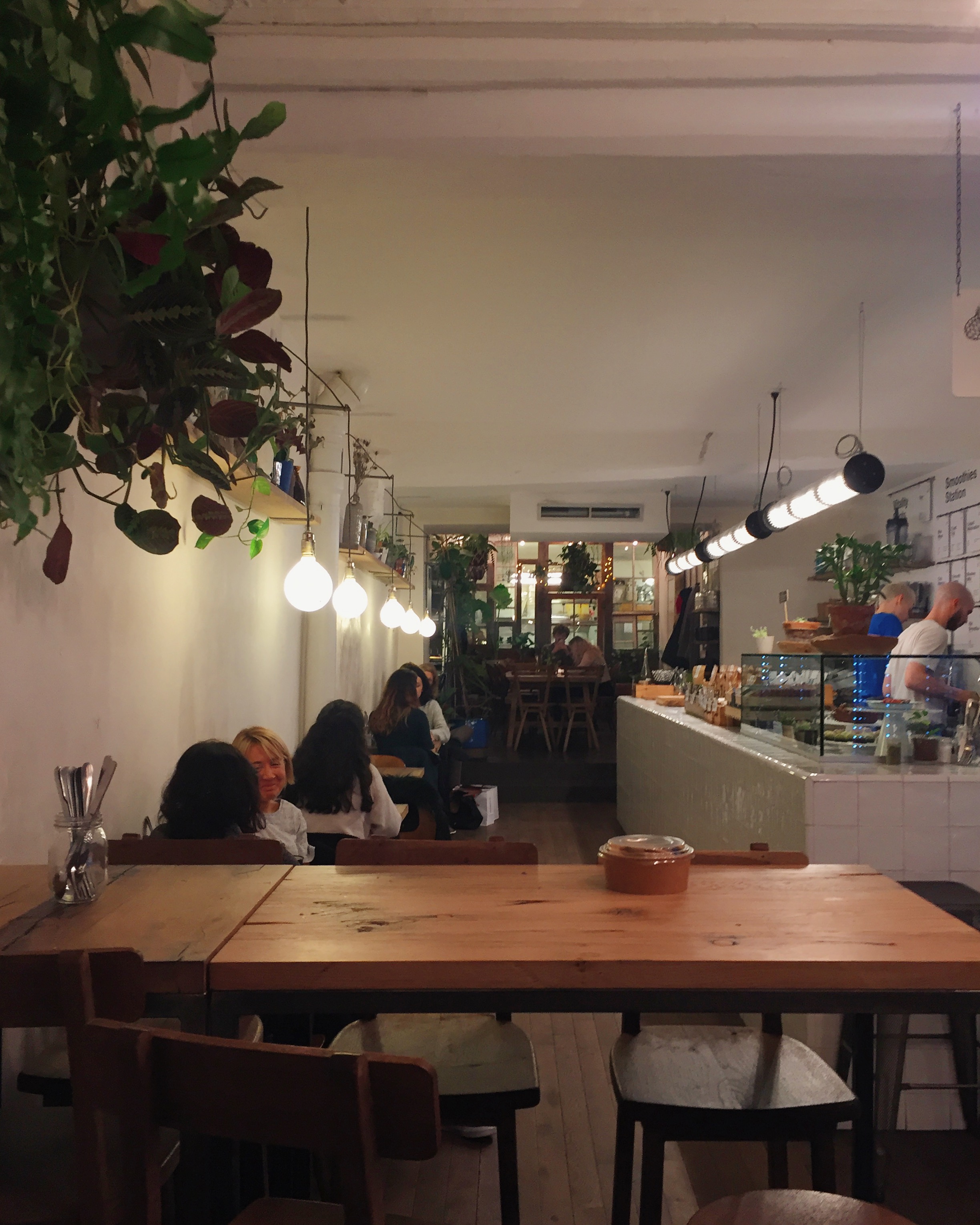 WILD & THE MOON /
100% Organic, cold-pressed, vegetarian, gluten free with no additives? You got it! One of the more expensive healthy cafés in Paris, Wild & the Moon offers very unique organic, plant based foods. When I say "more expensive", ordering "sur place" will cost you about a euro more per item. Yes, per item. TIP: you can take your meal to-go to avoid the extra charges or quickly swing by to grab a fruit and veggie juice, detox elixir, homemade dairy-free milk or prepared meals in the fridge conveniently located at the entrance of the café. Using ingredients like matcha and lavender, they have a truly varied selection of both foods and drinks. The best thing about Wild & the Moon is the laid back atmosphere. Although it's always a good idea to practice your french (the French will appreciate the fact that 'at least you tried'), the staff speaks fluent English. Adorned with welcoming green plants, free wifi, lemon water, friendly staff, an easy to read menu and work-space friendly seating, it's a great place to have a pause from the life of "Metro, Boulot, Dodo" which could make it worth the extra $$$.
55 Rue Charlot, 75003 Paris
Open Mon-Fri 8:00am - 7:00pm, Sat-Sun 9:00am - 7:00pm
24 Rue Berger, 75001 Paris
CAFE L'EXCEPTION /
One of my favorite cafés in Paris, Café L'Exception is the perfect place to meet up with a friend for a quick cappuccino or a fresh fruit and veggie juice (I love the carrot, orange, ginger). Often times I come here for their acai bowls, which are the best (taste, texture and price) that I have found in Paris. They also serve teas, baked goods, a drink of the day, and also have combination specials known as "formules". It's a small café right outside of Forum Les Halles (Metro Chatelet/Les Halles), located inside the very-cool concept store L'Exception. The staff is English-language friendly and always, always incredibly nice. It's an honest hidden gem worth discovering.
24 Rue Berger, 75001 Paris
Open Mon-Sat 9:00am - 7:00pm, Sun 10:00am - 6:00pm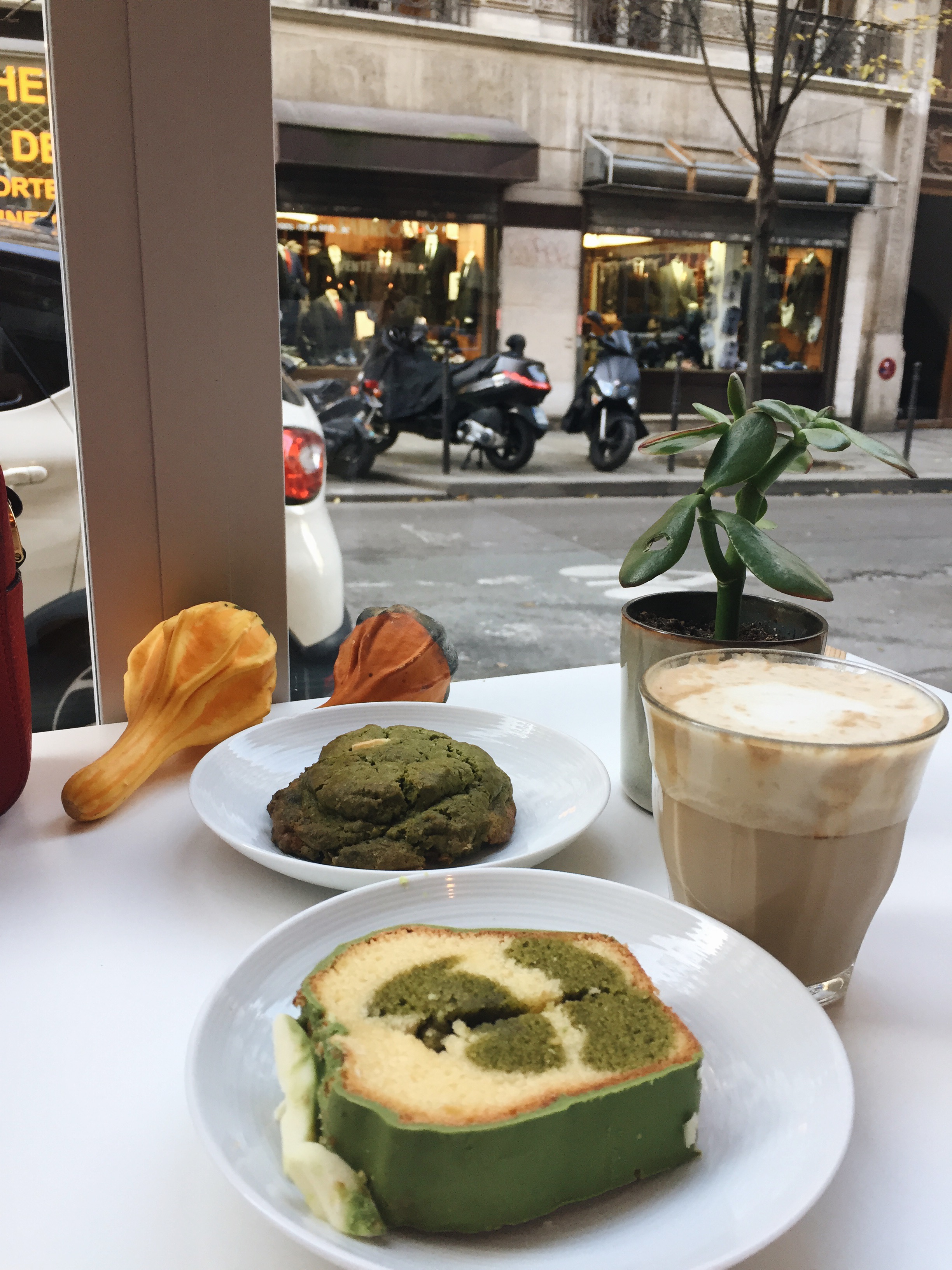 UMAMI MATCHA /
Matcha all of the things?! You got it! Umami Matcha is a unique Japanese inspired café in the 3rd arrondissement (metro République or Temple) where you can get super-healthy meals, all prepared with love using fresh seasonal ingredients... and matcha! Even the ice cream and pastry desserts are matcha-licious. My favorite guilt-free dessert is the white chocolate matcha cookie. P.S. They offer espresso drinks if you are not in the matcha mood. P.P.S Come here if you like to eat in natural light.
22 Rue Béranger, 75003 Paris
Open Tues-Fri 9:00am - 7:00pm, Sat-Sun 10:00am - 7:00pm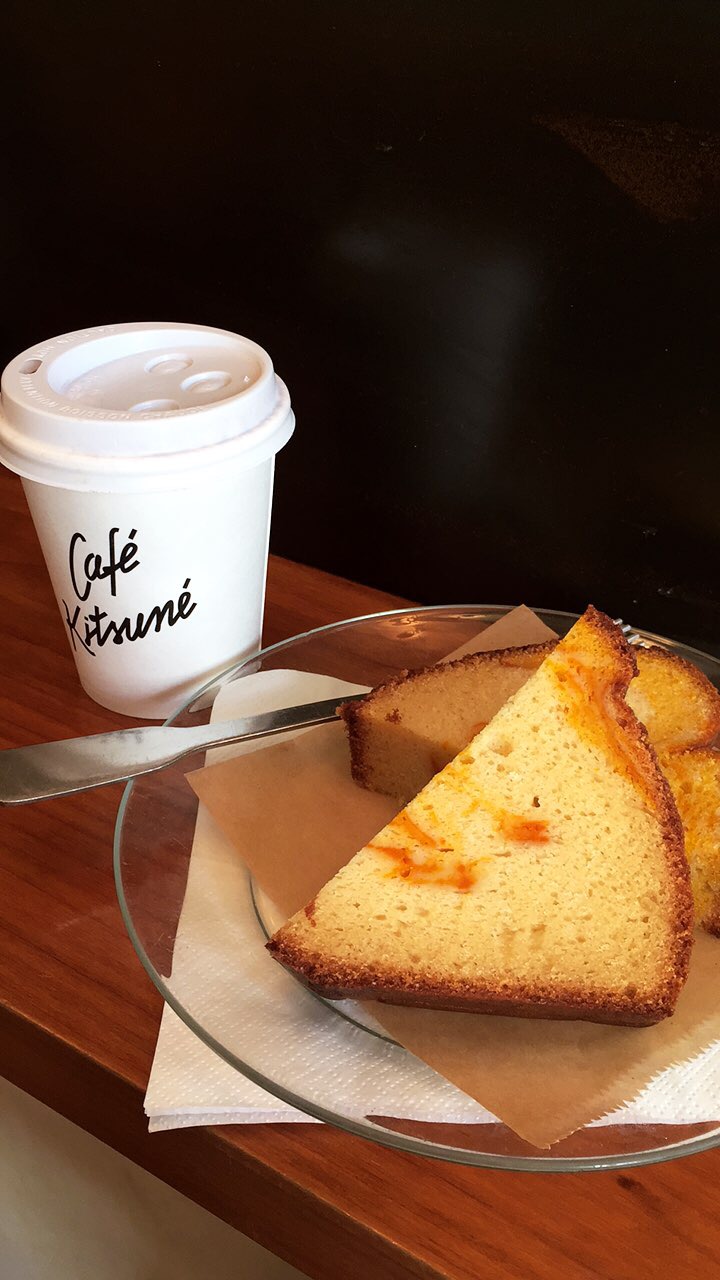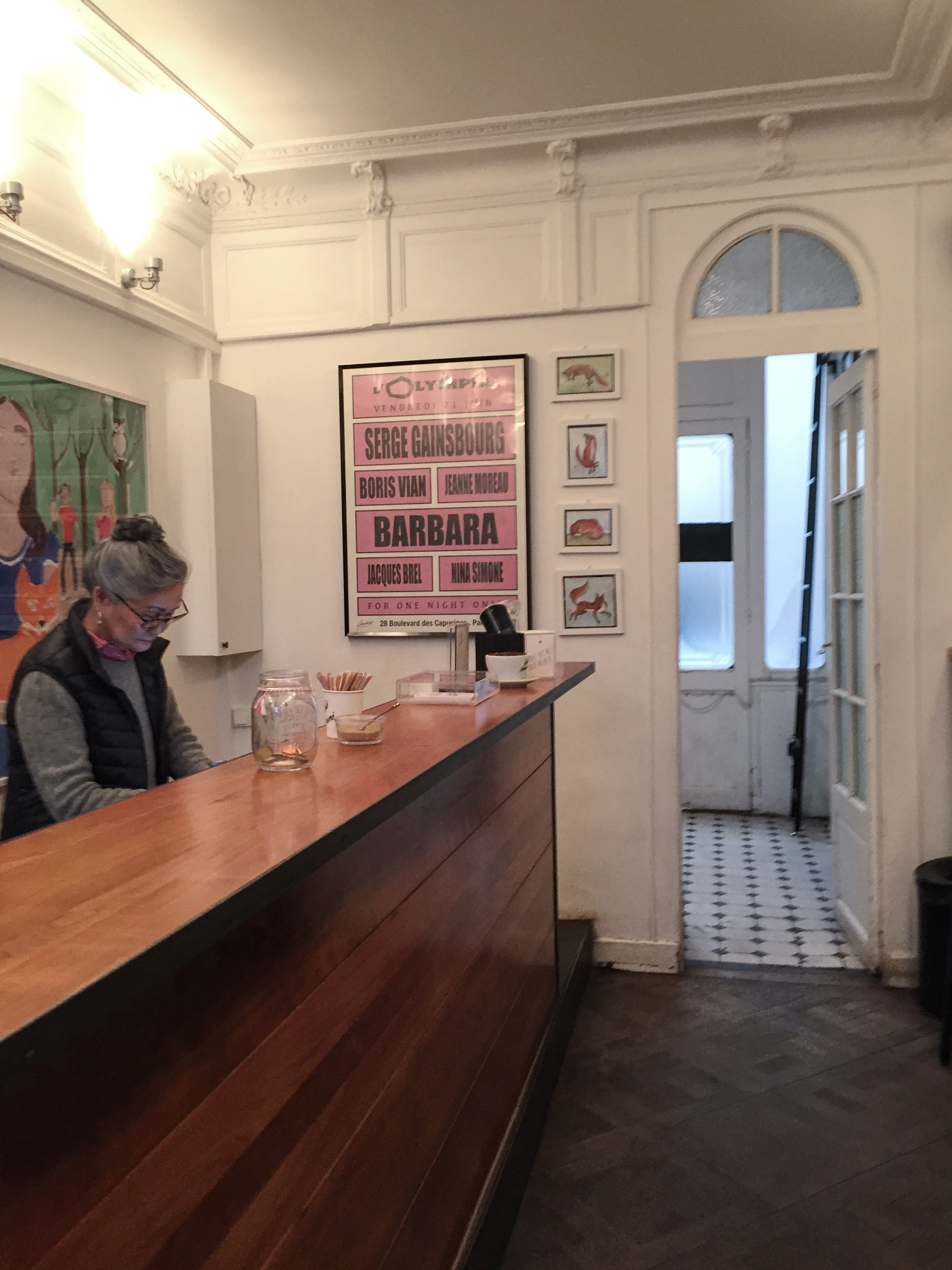 CAFE KITSUNĒ /
Located underneath the vaults of Palais Royal, Café Kitsuné is the spot I frequent to enjoy a freshly brewed coffee and a cute fox cookie (treat yo'self) when I am in the 1st arrondissement. Café Kitsuné doesn't have a full menu for food but they have delicious pastries, cookies, breads and cakes. I wouldn't consider it a healthy café, necessarily, but they are health-aware with milk alternatives and gluten-free food options. I really like their matcha latte and it is something I order often but their hot chocolate is really good too. If you need to take a break from the Louvre or if you just happen to find yourself in the area, enjoy your coffee, tea (whatever you decide to order) on the terrace (it's gorgeous) since inside seating is very limited. Sometimes I take it to-go and walk over to the Tuileries Garden, which is one of my favorite free spots to enjoy Paris.
P.S. If you're on the Metro and wondering how the hell to get to the famous Café Kitsuné, get off at the stop Palais Royal - Musée du Louvre (Line 1 or Line 3).
51 Galerie de Montpensier 75001 Paris
Open Mon-Sun from 10:00am - 6:30pm
94 Rue du Temple, 75003 Paris
STRADA CAFE /
Strada café is a very cozy cafe located in the hip neighborhood of Le Marais. It is off the main street so it could be hard to find at first. Strada is a quaint spot where you can enjoy a great coffee, a soothing tea, or a refreshing fresh fruit and veggie juice sur place or à emporter. You can maybe even reward yourself for finding it with a homemade dessert, which is what I might have done... I love to come here to get some work done while munching on a healthy lunch and benefiting from the fastest wifi I have found in Paris thus far. What's cool about this place is that the menu is constantly changing so there is always something new to try. I love the choices, flavors and creativity of the food offering. The place is quite small and fills up very quickly so it can sometimes be a gamble whether or not there will be a spot to sit, but it's definitely worth checking out.
94 Rue du Temple, 75003 Paris
Open Mon-Fri 8:30am - 5:00pm, Sat-Sun 10:00am - 6:00pm
24 Rue Monge, 75005 Paris
Open Mon-Fri 8:00am - 6:30pm, Sat-Sun 10:00am - 6:30pm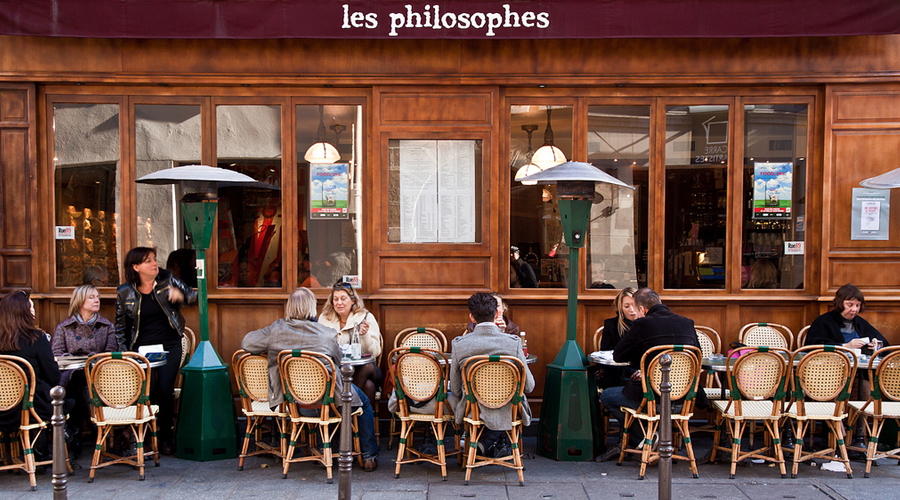 28 Rue Vieille du Temple, 75004 Paris
LES PHILOSOPHES /
Come to Les Philosophes in Le Marais ONCE and you won't be able to stay away! Get off at metro Hotel de Ville, Saint-Paul, or Pont Marie, forget about your timeline updates and enjoy the seasonally fresh, organic when possible, and locally sourced food at Les Philosophes. If you don't know what to order because everything looks delicious, I recommend trying "La suggestion du jour" which is always a pleasant surprise. A great way to try the menu is to get a Formule (offerings range from 17-40 euros). Another favorite is the Brunch offering where no crumb was left behind. If you've been on the hunt for the best authentic chai tea, Les Philosophes is THE place. I have yet to find a better chai in Paris than the one I enjoyed while people watching under a heated lamp on the terrace at Les Philosophes.
28 Rue Vieille du Temple, 75004 Paris
Open Mon-Sat 9:00am - 2:00am
++ NO WIFI @ THIS LOCATION!
TIP: The staff is English friendly so if your French isn't so great, politely ask for an English menu. (Pues-je avoir un menu en Anglais s'il vous plait?)
CAFE PINSON /
Café Pinson is the perfect place to go to if you're in the mood for some "Californian-style" vegan cuisine- I am talking raw, diary-free, vegetarian/vegan, wheat-free (sans gluten), 100% organic (+ local whenever possible), superfood packed homemade meals! If you frequent LA spots like Café Gratitude or True Foods Kitchen, then come to Paris and enjoy this gourmet organic café offering a selection of seasonally inspired breakfasts, lunches, fresh juices or late-evening guilt-free snacks like chia pudding. So many people criticize raw foods because of the lack of taste and the dislike of texture but here there is no sacrifice, especially when it comes to flavor.... the menu is so unique. The Le Marais location in the 3rd arrondissement is even open for dinner until 10:00pm. This is a rarity in Paris since most cafes close at (or before) 7:00pm. So, if you're finding yourself needing a bite to eat and it's after the 19th hour, this is an option for you. The menu changes daily but i enjoyed the presentation of the plates and overall quality of food at Café Pinson.
6 Rue Du Forez, 75003 Paris
Open Mon-Fri 9:00am - 10:00pm; Sat 10:00am - 10:00pm
Sun 12:00am - 6:00pm (Sunday Brunch at 12:00pm and 2:30pm)
58 Rue Du Fbg-Poissonniere, 75010 Paris
 
FRAGMENTS /
Fragments is another café located in the 3eme. Yes, another but not just any other, so let's not get confused here. Fragments is a niche café with a great vibe and caring baristas (English friendly, too) serving locally roasted, single origin coffee. Besides coffee, they also offer a small menu of delicious breakfast options like fluffy eggs or the highly recommended avocado toast (totally worth the 9 euros) as well as small bites and house made desserts. The atmosphere and decor is great and I always feel relaxed coming here to meet up with a group of friends. Although the wifi is free, the downside to this café is that the prices are a little steep but not much higher than the standard prices you will find in Paris (it's a tourist destination, let's face it) and they do not accept credit cards aka cash only so be prepared to have a tleast 10 euros with you (5 could get you a nice espresso drink).
76 Rue des Tournelles, 75003 Paris
Open Mon-Fri 8:00am - 6:00pm; Sat-Sun 10:00am - 6:00pm
- EXPLORE SOME PLACE NEW -