BEAUTY HAUL: Are Lush Fresh Handmade Cosmetics Worth Buying?
Recently, I stepped into a Lush Fresh Handmade Cosmetics store and yes, I went a little cray.
You're thinking "K THAT'S NICE, But GIRLLL, tell us! Was it worth it?"
v_ Keep reading to find out my honest opinion on my latest pick-up from Lush. _v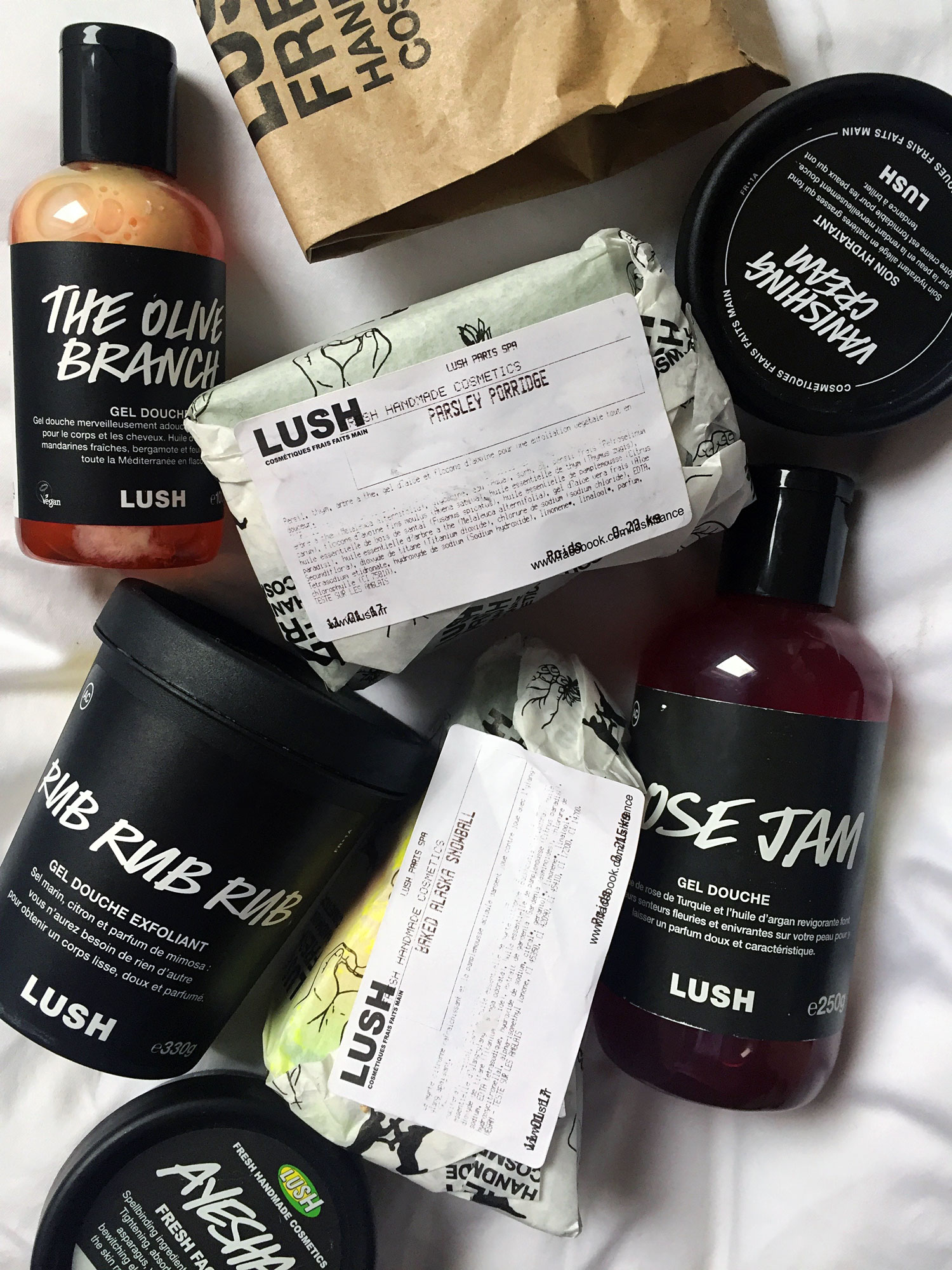 < SO, Here is what i think about 6 products that i tried from lush. >
PRODUCT #1
RUB RUB RUB Exfoliating Shower Gel
I've been really needing to add exfoliating into my self-care routine so when I was browsing the shelves, this caught my eye. Rub Rub Rub is an exfoliating scrub and shower gel in one. I'm not usually into anything that is labeled as a "two-in-one" like HOW can shampoo also be conditioner? It doesn't seem right to me. BUT this one actually is the best of both worlds and it doesn't lack on one end or the other. Truly 50/50. When it came to combating the extremely dry winter skin that I experienced in Paris, this was my go-to.
+
To get rid of ash and dead skin, I slather some product right onto dry skin and rub in gentle circular motions before I add any water, focusing on the elbows, knees, the backs of my arms, thighs and on the bottoms of my feet. I do this dry in order to increase circulation and get a really good exfoliation (kind of like dry brushing). This process is a sure way to "resurrect" myself, always revealing a new, silky-smooth epidermis layer underneath. Before I rinse the scrub off, I add water to my loofah/wash cloth and work up a nice lather, distributing the body wash all over my body to get it clean. Unlike the Olive Branch shower gel (see review below), this easily works up into a good lather, making it effortless to clean your entire body after an intense scrubbing process. The mimosa scent mixed with floral notes like Jasmine ;-) and Orange Flower smell really good to me (I could have a bias, I mean, I can't be putting down my own name, right?) Sometimes, just sometimes It hits me the wrong way and I think it smells like a house cleaner. I'm really sensitive to smells. Otherwise, I can't say anything too bad except that I wish Lush would use a different cleaning agent other than Sodium Laureth Sulfate, and to be careful if you have any cuts or broken skin what so ever because the salt and lemon are astringent and could really sting! Nonetheless, this product leaves your skin feeling undeniably soft, incredibly smooth, and above all, clean. I imagine this is what a Dolphin must feels like.
Works like MAGIC:
Mineral rich sea salt, lemon juice and lemon oil gently smooth, brighten and hydrate the skin.
What is the name of the perfume you're wearing?
The Orange and Jasmine absolute are essential oils popularly used in perfumery, so a plus is that this nicely scented wash lingers on your skin well after your morning shower and into your day.
Ingredients:
Fine Sea Salt (Sodium Chloride), Sodium Laureth Sulfate , Fresh Organic Lemon Juice (Citrus limonum), Water (Aqua), Sodium Cocoamphoacetate, Jasmine Flower Infusion (Jasminum officinale), Mimosa Absolute (Acacia decurrens), Orange Flower Absolute (Citrus Aurantium amara), Jasmine Absolute (Jasminum grandiflorum), Lemon Oil (Citrus limonum), Lactic Acid, Lauryl Betaine, *Limonene, Lilial, Fragrance, Blue 1, Red 28 .
Q: Would you buy this again?
A: No matter how good this scrub works, I would not buy this again just because (& for the price), I would rather try a new scrub that does NOT contain cheap cleansers like Sodium Laureth Sulfate.
PRODUCT #2
Ayesha Fresh Face Mask
Ayesha is amazing to add to your anti-acne routine. For my sensitive acne-prone skin, this mask does what it's intended to do- it tightens enlarged pores and tones the skin, revealing a more radiant, more even, and a more glowing complexion. If you ever feel like it's too obvious how stressed and dead-tired you are because it's written all over your dull, dehydrated face (hey, just being real), Ayesha is a quick cure for that. This fresh mask brightens dull spots with kiwi, fixes dry patches with asparagus and hydrates and soothes redness with anti-inflammatory honey. Paired with witch hazel's astringent effect, it leaves my skin feeling more youthful and glowing (I'm in my late 20's). It reduces the appearance of fine lines and wrinkles, helps with my hyper-pigmentation and acne scaring and leaves my skin feeling taut... like a tiger.
Are there any cons?
It smells kind of bad but after using Cosmetic Warrior (Have you ever put that stinky garlic mask on your face?), I'd take this smell any day.
Ingredients:
Fuller's Earth, Honey (Mel) , Elderflower (Sambucus Nigra) & Lime Tree Flower (Tilia Europaea) Decoction, Glycerine, Fresh Asparagus (Asparagus officinalis), Fresh Organic Kiwi Fruit (Actinidia chinensis), Kaolin, Witch Hazel Extract (Hamamelis virginiana), Rose Absolute (Rosa damascena), Rosemary Oil (Rosmarinus officinalis), Patchouli Oil (Pogostemon cablin), Elderflower Vinegar, Bentone Gel, *Geraniol, *Limonene, *Linalool, Fragrance.
Q: Would you buy this again?
A: Yasss queen. Again and again.
PRODUCT #3
THE OLIVE BRANCH SHOWER GEL
UGHH THIS SMELLS DIVINE! Actually, the best thing about this body wash is the smell. Maybe it's the only thing good about this shower gel. Made with citrus scents like mandarin and lemon and a hint of fresh orange groves in combination with Bergamot oil makes an enticing combination of both fruity and musky. I love scents like Le Labo Santal 33, and Comodity's Book and that one Tom Ford cologne, you know the one I'm talking about. As much as I love the smell, this stuff just doesn't quite lather, even after giving it a good shake. Its runny AF consistency fell right through the cracks of my fingers like the running water of the Niagra Falls. With the price tag of $9.95 for a 3.3 FL travel sized bottle (it's very small), the impossible consistency makes it impractical. Although it is super moisturizing, I felt like I was wasting it more than I was enjoying it. With olive oil, I imagined it being the perfect skin softening shower gel to use during the drying winter months but due to the lack of lather, I just never felt super clean while using it. I ended up using this as a mild hair wash when I ran out of shampoo and I then eventually, ended up mixing it with my Dr. Bronner's Multi Purpose Castor Soap (Tea tree scented), and THIS has been the best way to re-purpose it. The scents pair well together. Beside the no-lather drama, containing sodium laureth sulfate, coloring and parabens are added no-no's for me.
OLIVE MOISTURE! DO YOU?
Duh. Ingredients like olive oil help revive dull skin and soften up dryness. Olive moisture too.
Ingredients:
Vine Leaf Infusion (Vitis vinifera), Water (Aqua), Sodium Laureth Sulfate, Sodium Cocoamphoacetate, Fresh Mandarin Juice (Citrus nobilis), Fair For Life Olive Oil (Olea Europaea), Fragrance, Propylene Glycol, Bergamot Oil (Citrus Aurantium bergamia), Lemon Oil (Citrus limonum), Orange Flower Absolute (Citrus Aurantium amara), Mandarin Oil (Citrus Reticulata), Fine Sea Salt (Sodium Chloride), *Limonene, *Linalool, Hydroxycitronellal, Lilial, Red 4, Methylparaben.
Q: Would you buy this again?
A: I bought two of the travel sized bottles and I am thinking that these will be my last two. If I buy this again because I'm feeling nostalgic about the smell, I would buy one size up and add a pump so I can use it as a hand soap by the kitchen sink. As a shower gel, I don't need to wash myself in disappointment. It doesn't lather anyway.
PRODUCT #5
VANISHING CREAM FACE MOISTURIZER
Before trying Vanishing Cream, I was all about Celestial. But let me tell you, Vanishing Cream is my everyday everythaaaang! So far, it's the moisturizer that I trust when I'm going through a break-out. With toning and antiseptic witch hazel, balancing lavender absolute, soothing rose water, and softening Shea butter and grape seed oil, this is the holy grail of moisturizers for my sensitive, acne-prone skin. Besides being addicted to the smell, I am obsessed with putting this on my face and neck. This ultra-lightweight cream works like Harry Potter's invisible cloak, quickly vanishing after application, protecting the skin's outer layer while penetrating deep into the skin with it's soothing and conditioning goodness. You can't see it, but you know it is there because you see the difference it is making to your skin! After I layer on 2 coats of this, 2x a day, I see an immediate difference, including noticeable improvements in skin tone and texture. Vanishing Cream keeps my face balanced, hydrated, and glowing. The only thing that really bothers me is the presence of Parabens! Ughhh.
Ingredients:
Linseed Infusion (Linum usitatissimum), Water (Aqua), Rose Water (Rosa centifolia), Lavender Honey Water (Lavandula Angustifolia), Cold Pressed Organic Grapeseed Oil (Vitis vinifera), Honey, Stearic Acid, Cold Pressed Organic Jojoba Oil (Simmondsia chinensis), Witch Hazel Extract (Hamamelis virginiana), Fair Trade Shea Butter (Butyrospermum parkii), Cetearyl Alcohol, Triethanolamine, Camellia Oil (Camellia Japonica), Lavender Oil (Lavandula augustifolia), Neroli Oil (Citrus Aurantium amara), Geranium Oil (Pelargonium graveolens), Glycerine, Tincture of Benzoin (Styrax benzoin), *Geraniol, *Limonene, *Linalool, Fragrance, Methylparaben, Propylparaben.
Q: Would you buy this again?
A: Yep. I would but I'm really into French Skincare right now so I've been trying those.
PRODUCT #6
PARSLEY PORRIDGE NATURAL SOAP
I bought two huge chunks of this soap. Why? Because after smelling all the soaps, I just KNEW this was the one for me. Let me explain... during my haul, I was sad and suffering from hormonal acne and this just smelled like it could actually help heal my broken spirits and troubled skin. "Gently exfoliates to remove dead skin and keep spotty or disturbed skin cleansed and clear". YES! It spoke to me. Although it's meant for the body, I decided to use this to clean my face during cystic acne flare ups as part of my nightly routine, applying it just after I remove my make-up. It's complicated to find something that is strong enough to treat my acne yet doesn't dry out the rest of my super sensitive skin. I love charcoal soap for my skin woes but with antibacterial tea tree oil, smoothing and exfoliating oatmeal, cooling & soothing aloe gel, and vitamin C+K packed parsley and thyme, I was sure that this herbal soap would be a great remedy for my problematic skin conditions. All the ingredients added up so, why not see what it would do? As for the smell, if you're used to floral or fruity smells for your soaps, this isn't that! Have you ever had a cold pressed green juice that when you first try it you think to yourself "This really tastes like shit! But once you keep drinking the kale loaded concoction (cheers to your health!), you start to get used to and actually enjoy the taste? With Parsley Porridge, one may have such an experience. I would describe this as a slightly spicy, kind of grassy, garden-y smell, definitely something that smells earthy and grounding. And whether you like the smell or not- it REALLY does it's job. My face feels incredibly renewed and refreshed, something like a blank canvas, especially when I use it with my Clarisonic Mia. I trust the cleanliness so much that I would use this instead of my shower gel if I've been really active and need to get squeaky clean. I mean, on a daily basis, I prefer shower gel, but I'm just saying it delivers a clean feeling that I could trust.
TIP: Apparently, this soap is great to leave by the kitchen sink, perfect for getting rid of smells of preparing food off of your hands (garlic for example).
But is it organic, tho?
This handmade soap is free of palm oil and synthetic colors and although not organic, it is nearly all natural, which is not something I can say about the average drugstore soap. Sorbital, Sodium Hydroxide, EDTA, and Tetrasodium Editronate make up the safe but synthetic ingredients. I bought HUGE chunks so I think these will last me a while but...
Ingredients:
Grapeseed Oil (Brassica napus), Water (Aqua), Glycerine, Tea Tree Infusion (Melaleuca alternifolia), Coconut Oil (Cocos nucifera), Sorbitol, Fresh Aloe Gel (Aloe Secundiflora), Fresh Parsley (Carum petroselinum), Fine Ground Oatmeal (Avena sativa), Fragrance, Thyme Oil (Thymus zygis), Sandalwood Oil (Fusanus spicatus), Grapefruit Oil (Citrus paradisi), Tea Tree Oil (Melaleuca alternifolia), Sodium Chloride, Titanium Dioxide, Sodium Hydroxide , Chlorophyllin-Copper Complex , EDTA , Tetrasodium Editronate, *Limonene, *Geraniol, *Farnesol, *Linalool.
*Occurs naturally in essential oils
Q: Would you buy this again?
A: YEAH but for now, this haul is going to last me a lonGg time!
Do you have your own Lush experience? Which products did you love and which just didn't live up to the hype?
Comment below and tell us if you think Lush is worth it or nah.
- Tried & Tested -
BEAUTY REVIEWS