SUPER BOWL: Simple Superfood Chia & Gogi Berry Oatmeal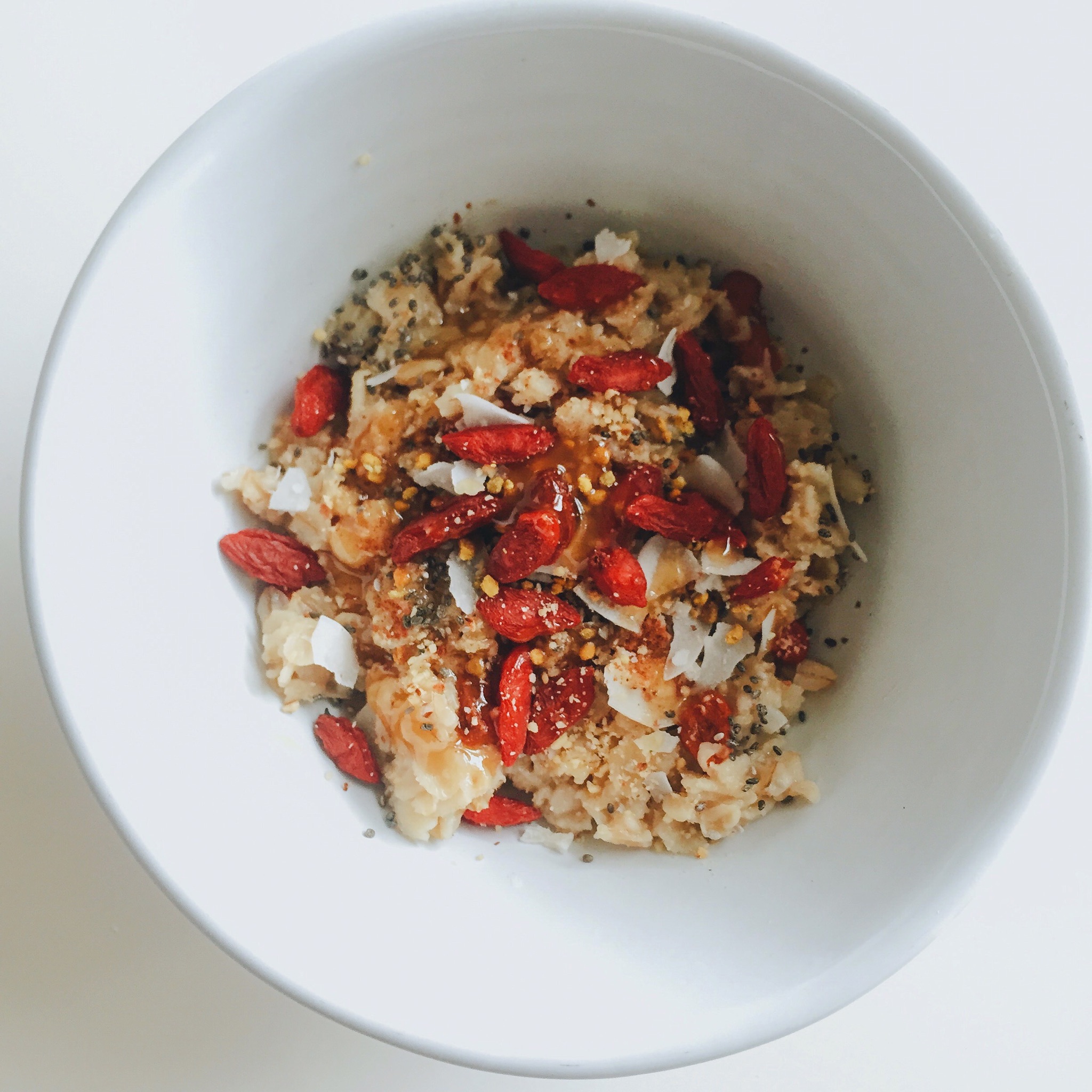 Chia & Gogi Berry Oatmeal
WHAT YOU NEED
1. CHOOSE YOUR OATS:
1 cup old-fashioned oats + 1 cup of almond milk
or
1/4 cup steel-cut oats + 1-1/2 cup almond milk
* What type of oats are you cooking?
The recipe will vary depending on the type of oats you have.
2. CHOOSE YOUR TOPPINGS:
1/4 tsp ground cinnamon
goji berries
chia seeds
flax seeds
almond dust
coconut flakes
coconut nectar to taste
*Makes a Single Serving
BENEFITS
lowers bad cholesterol
helps stabilize glucose levels
high in fiber and nutrients
dense and grounding
warming
HOW TO MAKE this SUPERFOOD OATMEAL
Pour almond milk and water into medium sized saucepan and set on medium heat. Slowly bring to a simmer. Stir in oats and add in a pinch of salt and cinnamon. Cook for 5-7 minutes for old-fashioned oats.
For steel-cut oats, reduce heat and stir occasionally as oats thicken for ~20 minutes. Continue to cook to a creamy consistency, ~10 minutes on low heat.
Remove from heat. Portion into servings and let sit for ~3-5 minutes. The longer it sits, the thicker the oatmeal will become. (Right before it gets thick, I add the chia seeds and goji berries so they will become softer and be easy to digest.)
Top with a tablespoon each of coconut flakes, flax seeds, chia seeds, and goji berries. Drizzle with coconut nectar to sweeten to taste. Serve and enjoy immediately :)
* If you have allergies or dietary needs, any of the ingredients can be substituted. Experiment and have fun.